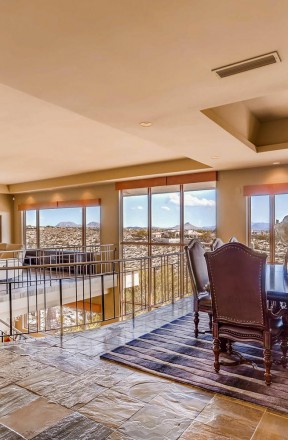 Luxury Home Carefree Arizona
4 Beds
•

5.5 Baths

•

2699 SF

•

4.7 Acres

•

50 Mile Views

•

Contemporary Style

•

1,225,000

8702 E Silver Saddle Drive, Carefree, AZ 85377

Live your Arizona dream at 8702 E Silver Saddle Drive in Carefree, Arizona, where you can check off ALL the features on your wish list with this great home.
 Awesome mountain views and city lights from inside and out, with lots of windows & multiple patios/balconies.
 Privacy on a privately-gated 4.7 acre lot, surrounded by similar large-acreage lots.
 Contemporary style, casual elegance, luxury lifestyle.
 Great home layout for gracious living and entertaining, both indoor and outdoor
 Spacious rooms with en-suite baths. Layout allows up to Four (4) master suites
 Pool, spa, wine tasting/vodka room, 3 gas fireplaces, tons of storage through-out
 A gigantic garage (approximate 46 x 44) to make into your ultimate man-cave
 2016 updates/upgrades: Hardwood flooring in the lower level Family Room, Master Suite #2, and Office/Master Suite #3; Rose Garden in rear of home; Producing fruit trees/vertical garden in front parking area.
 2015 updates/upgrades: All four (4) air conditioners; custom automated blinds; wine room cooler; two (2) tankless hot water heaters; new pool pump; front fountain; and rear fountain
 Kitchen and 5 ½ baths have all been beautifully updated.
 Plenty of room to add another guest casita, detached office, art studio, or horse facilities
Priced at $1,225,000 which is $50,000 below recent appraisal. (Appraised for $1,275,000 as of 10/26/2017.)
 Live in an exclusive small town with all the big city conveniences nearby:
Town of Carefree, less than 3 miles from this home, has a charming, walkable downtown, with a variety of great dining options, shops, and art galleries near the Carefree Desert Gardens. Also, the historic Spanish Village was recently renovated and will be adding another restaurant in late 2017.
Town of Cave Creek offers additional dining and shopping within 5 miles from this home.
Golf (over 20 public and private courses nearby) including: Desert Forest; Boulders; Desert Mountain (6 courses - Renegade, Cochise, Geronimo, Apache, Chiricahua, and Outlaw); Rancho Manana; Dove Valley Ranch; Cave Creek; Terravita; DC Ranch; Grayhawk; Tatum Ranch; Troon; Troon North; Desert Highlands; Estancia; Mirabel; Legend Trail; Whisper Rock.
Civana Wellness Spa and a health-conscious restaurant will be opening in 2018 at the current Carefree Resort & Conference Center, about 2 miles from this home.
Take your pick of outdoor activities: Boating, Hiking, Fishing, Water Skiing, Camping, Horseback Riding, Mountain Biking and more. Locations include: Bartlett Lake, Lake Pleasant, Tonto National Forest, and Spur Cross Ranch, to name just a few.
Carefree Airpark with hangars for private planes is about 2 miles from this home.
Special Events – Enchanted Pumpkin Garden; Hidden in the Hills Studio Tour; Christmas in Carefree featuring real snow, a Christmas market, and Christmas performances; Carefree Christmas Parade; seminars presented by Carefree Desert Gardens; Free Yoga at the Sundial; Thunderbird Artists Fine Art and Wine Festival; Musical, Comedy, and Art shows; and other annual and special events to enjoy.
Here are three more reasons to consider purchasing this cool home in Carefree, Arizona: There is no Town property tax in the Town of Carefree. Temperatures here at 2700 foot elevation are noticeably cooler than in many surrounding areas. Home is not in an HOA, so no HOA fees or rules.
UTILITY SERVICES INFORMATION:
Electricity is provided by APS. Call 602-371-7171 to set up new service or go on their website at: https://www.aps.com/
Gas is provided by Southwest Gas Corporation (877-860-6020) or go on their website at: https://myaccount.swgas.com/service
Water is provided by Carefree Water Company (480-488-9100). Company staff confirmed that they do service 8702 E Silver Saddle Drive and that the property has a 1" meter size. Water rates in effect as of July, 1, 1017 can be seen at: http://carefreewaterco.com/images/2017-2018_Water_Rates.pdf. For more information, go to: http://carefreewaterco.com/
Sewer is provided by Liberty Water (623-935-9367 or 480-488-4152)
Trash service is available from private companies, including: ABCO Recycling Center 602-943-9676; Area Disposal 480-515-4300; Curbside 602-2225-0020; Waste Management 602-268-2222.
Fire Protection is provided by Carefree Fire Department (480-945-6311)
Warm contemporary home with 3 large en-suites plus a casita. Seller uses the wood=paneled Bedroom #3 as a Home Office.
Jaw-dropping panoramic 50 mile views from Four Peaks to Carefree city lights.
Multiple balconies and covered patios provide all mail rooms with outdoor space to enjoy the amazing views.
Minutes from multiple golf courses, private airport, shops & dining.
Privately-gated 4.7 acre hillside lot.
The layout includes Living, Dining, Kitchen & Master #1 on entry level, all with access to multiple decks & 50+ mile views. On the lower level, Family Rm w/ wet bar & wine/vodka room, Master #2 w/ kitchenette, & wood-paneled Office (or Master #3) all also have access to patios & great views.
The attached Guesthouse/Casita is located off the pool area could be used as office, exercise room, or Master #4.
Huge attached air-cooled garage might hold up to 6 cars depending vehicle size. Or use some of the garage space for workshop, fitness &/or storage.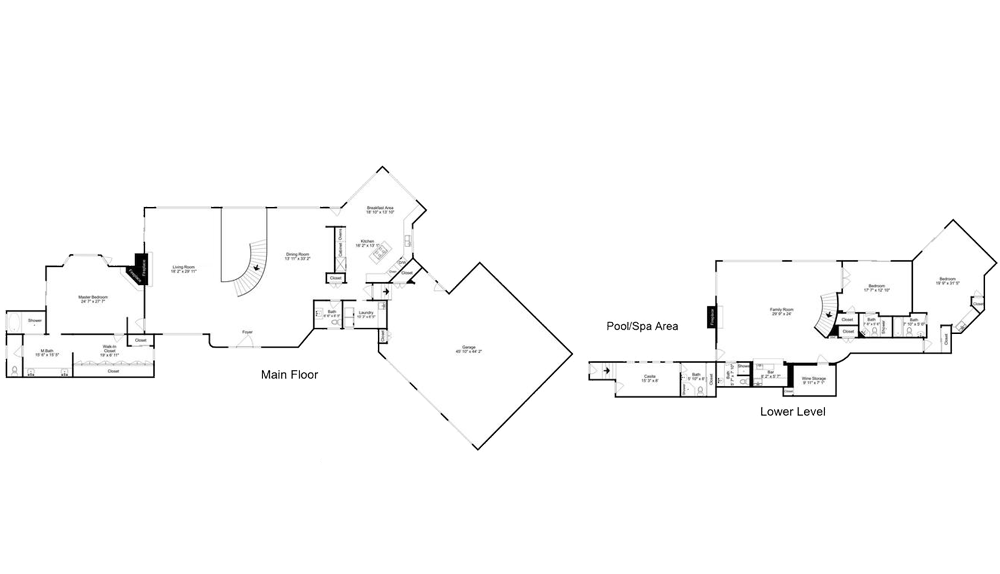 Maureen D. Thelen
Designated Broker
BR034675000
602-791-0898
maureen@urbanpremises.com
My Bio